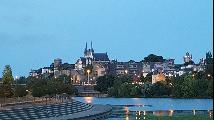 The château that is so angry it cannot move. It cannot eat. It cannot sleep. It can just barely growl. -- Bound so tightly with tension and anger, it approaches the state of rigor mortis.
Nantes to Angers
I got a recommendation of a place to stay in Angers, so that set my next destination. It turned out to be a 100 km ride, but I had a pretty strong tailwind, so it was OK. Along the way, I stopped at the Café Lenin, a little café/performance space by the river that was filled with communist tchotchkes. The owner picked them up over the years when she was working for the EU in Eastern Europe.
Angers
With apologies to David Lynch, it's actually a quite pleasant château.
Tapestries of the Apocalypse
The château has an exhibition of "tapestries of the apocalypse," a set of tapestries that was made during the hundred years war. Partly, it was to tell people that things would get better, after that time of war, famine, and pestilence. In Greek, "apocalypse" doesn't mean "the end of the world," it means "revelation." It was kind of "Where the Wild Things Are" with swords, knights and prostitutes.
The Good Shepherd Hostellerie
Here's the place I stayed: L'Hostellerie du Bon Pasteur. It's a a convent that was built in 1829. It's still operating, with 11 sisters in residence, and it has a sizeable hotel.