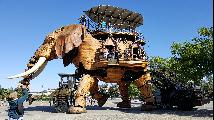 My trip turned a corner - I turned right at the Loire river. This took me to Nantes, home of the steampunk elephant.
Saint-Michel-Chef-Chef Chefs
To round out Saint-Michel-Chef-Chef, I went to the biscuit factory. No tours, it being Saturday, but I did get a "café gourmande" (which is a coffee with a flight of tiny deserts) at their cafe/shop.

I then walked to the coast, and had a fantastic meal at Les petits chefs (the little chefs). I guess this was my second encounter with a chef of St. Michel Chef Chef. After that, there was a folkloric community dance that started at 9, and ran past midnight. I stayed for 30 minutes, then it was my bedtime!
Turning the Corner
At St. Brevin, I turned right, and started following Eurovelo 6. Only 3653 km to Constantsa, Romania. What am I waiting for?
L'Éléphant!
Nantes is, of course, home to a steampunk elephant. He lives on the island of machines, where other steampunk creations live. It's all very The Wild Wild West.
Other stuff in Nantes
Nantes is a pretty big city. I went to an art exposition of images of migrant camps in Europe and Lebannon, and I saw the Jules Verne museum. Jules Verne is from Nnantes. I also visited Les Jardins des Plantes (the garden of plants? I guess you'd say The Botanial Garden in English). It's really impressive!
Tomorrow, on to Angers!